Weightman's Packaging have been a proud longstanding distributor of Caprice Paper Products for 25 years. Founder and Director Ross Weightman spent several years in Adelaide and Darwin before returning to Mildura. Ross had been associated with Dalton Packaging but in October 1983 his own business, Weightman's Packaging and Stationary, was born.
His father Brian Weightman had previously owned and run a paper supply business on a smaller scale before working as a development officer for the VFL. Therefore, you could say that the passion for paper products runs in the family just as it does at Caprice!
Brian's passion for football saw him have a strong association with the junior development program in the Sunraysia area. This association and the family's involvement in the community has helped the business to prosper over the many years.
To this day the family business has grown immensely and the product range has diversified to include washroom products, chemicals, food packaging and industrial packaging. Also stocking catering supplies including food service products, commercial ovens, fridges and much more.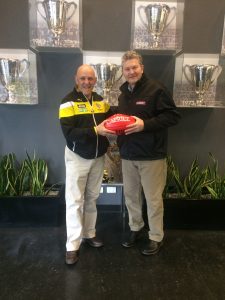 Customer reach has also expanded over the years with the business shipping to customers in Adelaide, Melbourne, Sydney and Brisbane! This has been aided by the establishment of the internet with the company now able to reach parts of Australia they'd only ever dreamed of supplying.
The journey to start and run any family business is always challenging but the support from family and the community has allowed for plenty of accomplishments as well. Being led by his father Brian and mother Maureen, who are both strong sporting identities in the Sunraysia area, has allowed the company to break into the business community and be accepted with greater ease than normal.
Ross' brother, Dale 'Flea' Weightman, a premiership star for Richmond Football Club and a state of Origin player for Victoria, helped the family name to become well known and this gave them an opportunity to get the business off the ground.
Weightman's Packaging maintain that "without the support of suppliers like Caprice Paper, we could not have survived. Our business has been supported by Australian manufacturers and although we have seen many Australian suppliers close down over the years and seen many more move overseas, Caprice Paper have always been there through thick and thin."
If your company has a Caprice story to share, let us know!